When it comes to home maintenance, cleaning the roof and gutters is often overlooked. But neglecting this task can lead to significant problems down the road. That's why we offer the perfect service combo: roof and gutter cleaning.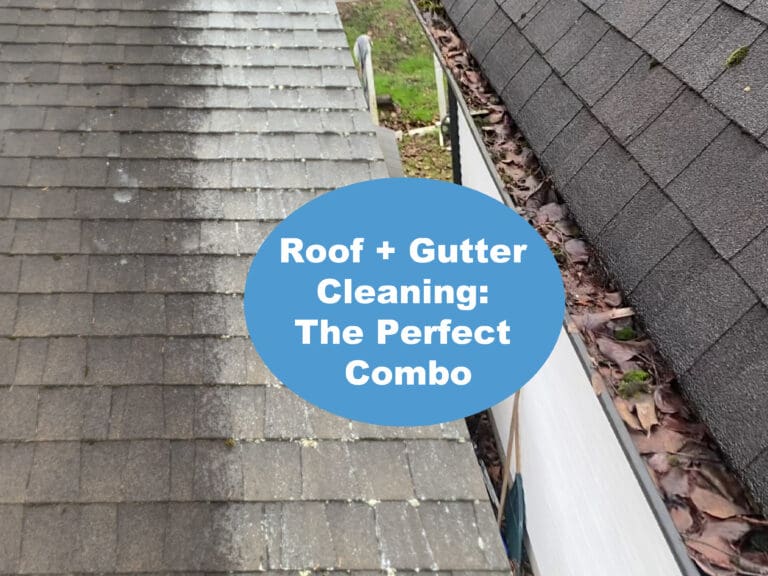 At our company, we understand that hiring a trustworthy gutter cleaning service is critical for homeowners. The gutters are often out of sight and out of mind, and you never know if a company has done a thorough job of removing debris that can clog up your gutter and downspout system. That's why we use a variety of methods for gutter cleaning, depending on the situation and design of each home. We may clean gutters by hand, or use a pressure washer or leaf blower to remove debris. We always follow up with a full cleanup of the ground below during a roof and gutter cleaning.
The Best Way To Save On Gutter Cleaning & Moss Removal
Gutter cleaning as a standalone service can cost an average of $400-$500, but prices may vary depending on factors like linear feet of gutters and surrounding trees. Our customers can save money by bundling gutter cleaning with other services, such as roof cleaning and moss removal. In fact, we offer discounts on gutter cleaning of up to 25%-50% when combined with other services.
Speaking of roof cleaning and moss removal, we provide those services too. We clean a variety of roof types, including asphalt shingle, tile, cedar shake, and metal roofs. We use a low-pressure soft wash method for moss removal to prevent damage to the roof. First, we inspect the roof and carefully remove any large, loose moss using vinyl brushes. Then we apply our soft wash treatment, which kills all moss down to the roots in about 20 minutes. Over time, the dead moss shrinks and disappears on its own.
We're so confident in our roof cleaning and moss removal services that we offer a 2-year moss-free guarantee. If the moss comes back within two years, we'll come back to remove it at no additional cost to you. We always prioritize safety, and we have WorkSafe BC coverage to protect our customers from liability.
Our pricing for roof cleaning starts at $500 and can go up to $3000, depending on the roof type, amount of moss, and any volume discounts from bundled services.
In conclusion, if you're in need of roof and gutter cleaning, look no further than our company. We're dedicated to providing top-notch service and ensuring our customers are satisfied with the results. Don't wait until it's too late – contact us today to schedule an appointment for moss removal and gutter cleaning, roof and gutter cleaning, or any other home maintenance needs.