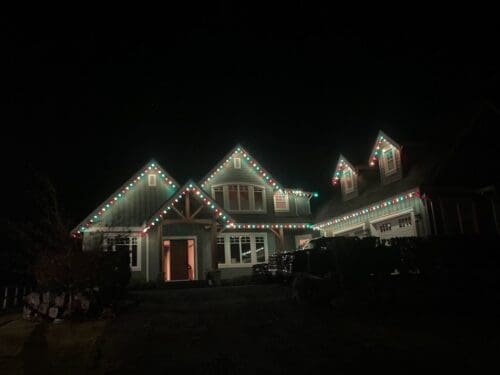 Shine City Offers New Westminster Christmas Light Installation. New Westminster, British Columbia, comes alive with the spirit of the holiday season, and nothing captures this enchanting atmosphere better than the warm, radiant glow of Christmas lights. As the city prepares to embrace the magic of Christmas, Shine City stands ready to make your home an integral part of this festive celebration. Serving not only New Westminster but also the entire Greater Vancouver area, including Surrey, Langley, Abbotsford, Maple Ridge, Vancouver, and beyond, Shine City is your trusted partner for Christmas Light Installation services. In this article, we will illuminate the world of Shine City's premium LED Christmas lights and the comprehensive services that will turn your holiday season into a shining masterpiece.
Designing Holiday Dreams
A Personal Touch: Shine City understands that the holiday spirit is deeply personal. That's why we offer a personalized approach to our Christmas light design services. When you choose Shine City, you have the creative freedom to select your preferred colors and color patterns, allowing you to craft a holiday masterpiece that reflects your unique style and spirit.
Quality That Lasts: The heart of any spectacular holiday display is the quality of the lights. Shine City takes pride in offering premium-grade LED Christmas lights that shine brightly in terms of durability and reliability. These heavy-duty commercial-grade LEDs are designed to withstand the rigors of outdoor use, ensuring they illuminate your home brilliantly throughout the holiday season.
Longevity and Efficiency: Shine City's Christmas lights are not only durable but also incredibly long-lasting. They outshine standard store-bought lights by lasting up to 10 times longer. This means you can enjoy the enchanting glow of your holiday display for many years to come. Additionally, our Christmas lights are designed to be energy-efficient, helping you save on electricity costs while brightening your home with festive cheer.
Impeccable Installation
Early Beginnings: At Shine City, we believe that the holiday spirit should be enjoyed as early as possible. That's why we begin installing Christmas lights as early as October 1st, ensuring your home radiates holiday magic from the very start of the season. Early installation allows you to savor the festive atmosphere for an extended period.
Tailored Techniques: We recognize that every home is unique, and our installation methods reflect this. Whether it's clips, straps, zip ties, or staples, our experienced team selects the appropriate approach based on your home's design and specific requirements. While our methods are secure and reliable, it's important to note that they may create small staple holes on the fascia boards of your home. However, rest assured that we take measures to minimize any impact, preserving your property's integrity.
Responsive Maintenance
Your Peace of Mind: At Shine City, your satisfaction is our top priority. If you encounter any issues with your Christmas lights during the season, our dedicated team is ready to assist. We respond promptly to fix any problems within 24 hours, ensuring that your holiday display continues to shine brilliantly, without any disruptions to your festive celebrations.
Hassle-Free Take-Down
Extended Enjoyment: When the holiday season comes to a close, we understand that taking down the lights can be a daunting task. Shine City is here to make this process hassle-free. We begin taking down Christmas lights on January 1st, but you have the flexibility to leave your lights up as late as January 31st. Our team handles the removal with utmost care, ensuring that your lights are labeled for reinstallation and securely stored until the next holiday season. Say goodbye to the frustrations of tangled lights and dusty attics—Shine City has got you covered.
Discounts and Specials For New Westminster Christmas Light Installation
Year-Round Savings: Our commitment to making your holidays affordable and brilliant extends beyond the first year. Once your Christmas lights are custom-designed, custom cut, and fitted to your house, we're pleased to offer discounts ranging from 10% to 25% off our services. These discounts are available year after year, ensuring that you can enjoy a radiant holiday display without exceeding your budget.
Early-Bird Discounts: For those who like to plan ahead, Shine City provides early-bird discounts when you schedule installations before October 15th. This incentive not only helps you save but also ensures that your home is among the first to light up the neighborhood with holiday cheer.
Conclusion: In New Westminster, BC, Shine City is your ultimate destination for Christmas light installation. Our comprehensive service, premium LED lights, and unwavering commitment to excellence set us apart. Join the ranks of our delighted customers and let us transform your property into a dazzling holiday wonderland. Contact Shine City today to schedule your Christmas light installation and immerse yourself in the enchantment of the season. Illuminate your holidays with Shine City, your trusted partner for New Westminster Christmas Light Installation.