When it comes to Mission roof cleaning, Shine City is the name you can trust. We understand the unique challenges roofs face in Mission and have tailored our services to ensure optimal longevity and appeal for all types of roofs, from tile and asphalt to cedar and metal. Our process focuses not only on cleaning but also on the preservation of your roof's integrity and the surrounding environment.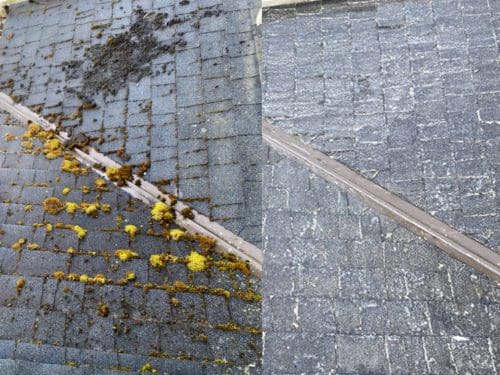 Mission Roof Cleaning: Our Process
Our process begins with a thorough assessment, where we evaluate the situation, condition, and type of roof. This allows us to develop an efficient and effective cleaning strategy tailored to each specific roof, cementing our reputation for Mission roof moss removal and general roof cleaning.
An important part of our preliminary inspection includes searching for any pre-existing damages on the roof. We believe in transparent communication with our Mission roof cleaning service, notifying our customers in advance of any issues that could affect the cleaning process or the longevity of their roof.
Following the initial assessment, our trained professionals gently scrub the surface of the roof using soft brushes. This method effectively removes moss that's loosely attached to the shingles, reducing the need for harsh cleaning techniques later in the process.
At Shine City, we are conscious of the surrounding environment. Therefore, we ensure to water down all plants and vegetation around your home before the main cleaning begins. This simple yet critical step helps to prevent any damage to your beloved garden throughout our roof cleaning process.
Roof Soft Washing In Mission
Once the initial preparation is complete, we employ a soft wash application on the entire roof. This gentle, non-damaging method ensures all moss is eradicated, further solidifying our expertise in Mission roof moss removal.
Our promise to our customers extends beyond a single service. We guarantee that all moss will disappear over the following months, and pledge that no new moss will grow for 2 years post-application. If any moss does return within this period, our team will revisit your property and retreat the affected areas at no additional charge.
Our commitment to your satisfaction, along with our thorough and environmentally friendly process, makes Shine City your number-one choice for Mission roof cleaning. Let us help you protect and enhance your roof, adding value and appeal to your home. Contact us today for a roof that shines tomorrow.
We also offer an array of other services besides roof cleaning. We also offer gutter cleaning, pressure washing, window cleaning and more!
Call Shine City today for the best roof cleaning in mission.