Abbotsford Commercial Pressure Washing Services: The Gold Standard with Shine City
Amid the vibrant ambiance of Abbotsford, your commercial establishment's facade speaks volumes about your commitment to quality and professionalism. An immaculate exterior is not just about aesthetics; it's an embodiment of your brand's ethos. Enter Shine City with its top-tier Abbotsford commercial pressure washing services. We are dedicated to ensuring your business exterior radiates excellence.
---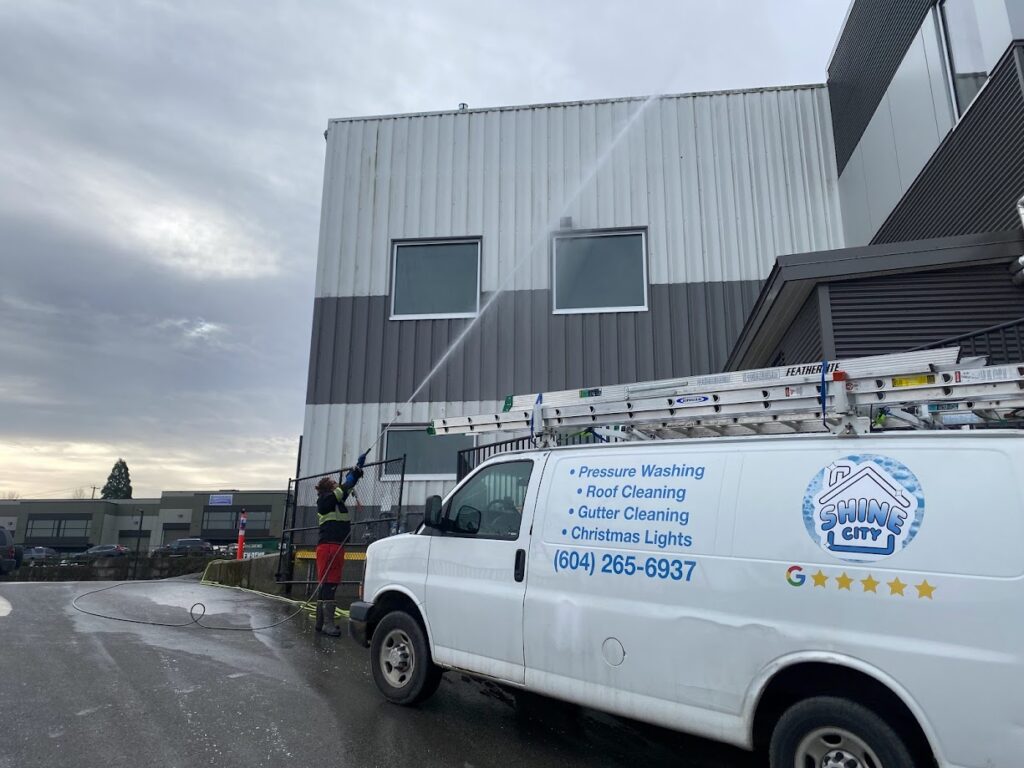 Unparalleled Commercial Pressure Washing in Abbotsford with Shine City
At Shine City, we believe in elevating the visual appeal of your establishment to match the premium services you offer inside. Here's what sets our commercial pressure washing services in Abbotsford apart:
Comprehensive Expertise: Our spectrum of services is as diverse as the businesses we serve. Key offerings encompass:

Abbotsford Commercial Building Pressure Washing: Experience a transformed facade, free from grime, pollutants, and unsightly marks.
Abbotsford Parking Lot Pressure Washing: A pristine parking space awaits, devoid of oil spills, dirt, and other blemishes.
Abbotsford Parkade Pressure Washing: Navigate through a cleaner, more appealing environment that ensures safety and aesthetics in equal measure.
---
The Shine City Advantage: Why Abbotsford Trusts Us
When you opt for Shine City's commercial pressure washing services in Abbotsford, you're assured:
Precision-Centric Approach: We meticulously address every nook, corner, and crevice, guaranteeing a holistic cleaning experience.
Sustainability at Forefront: Our cleaning solutions are robust yet environmentally considerate, striking the perfect balance between efficacy and eco-friendliness.
Mastery & Commitment: With a team passionate about their craft, we deliver results that consistently exceed expectations.
---
Frequently Asked Questions (FAQs)
1. Why is regular commercial pressure washing crucial for my establishment? Apart from enhancing the visual appeal, consistent pressure washing prevents potential damage from mold, algae, and accumulated dirt, ensuring your establishment's longevity.
2. How is Abbotsford commercial power washing different from other regions? Abbotsford's unique environment and urban challenges necessitate a customized cleaning approach. We tailor our services to address these specific needs, ensuring optimal results.
3. Can you manage extensive parkade pressure washing projects? Absolutely! Our Abbotsford parkade pressure washing services are designed to manage projects of all scales, guaranteeing thorough and uniform cleaning.
4. How much downtime should I expect during the cleaning process? The duration largely depends on the project's complexity. However, our team ensures swift, efficient services to minimize any potential business disruptions.
---
Empower your business facade to be a true testament to the quality you offer. With Shine City's Abbotsford commercial pressure washing services, watch your establishment stand tall, gleaming with unmatched brilliance. Reach out today and let us craft an exterior befitting your brand's grandeur!