Chilliwack Pressure Washing: Unmatched Quality for Gleaming Exteriors
Your home or business is your pride and joy, and at Shine City, we understand just how important it is to keep it looking its best. As specialists in exterior cleaning services, our goal is to provide Chilliwack pressure washing services, that not only meet but exceed your expectations.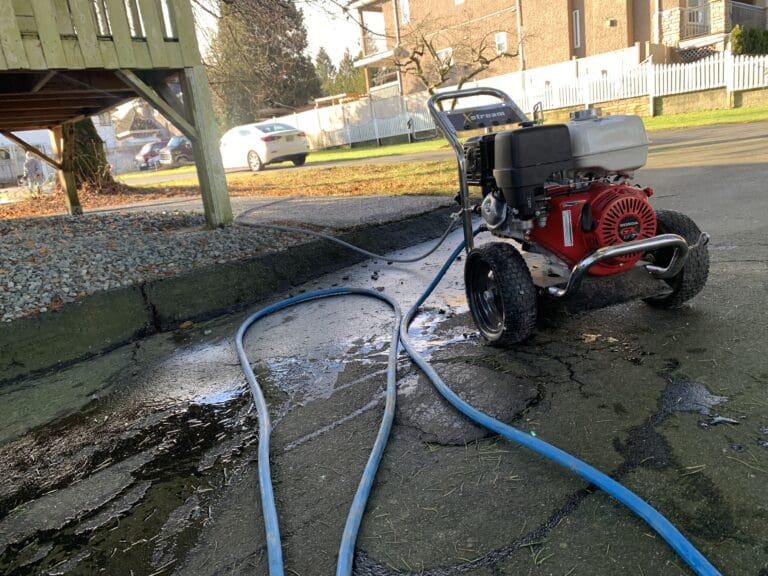 Comprehensive Pressure Washing Services in Chilliwack
Shine City's professional pressure washing services bring a new lease of life to your property. With the right equipment, chemicals, and expertise, we're equipped to pressure wash virtually any surface:
Concrete and Asphalt
Pavers and Brickwork
Retaining Walls
All types of Decks
Patio Covers
Driveways and Parking Lots, and more
Our pressure washing services employ surface cleaners that leave your property evenly clean without any unsightly lines. We also ensure that the correct nozzles are used to apply the perfect amount of pressure for an optimum clean, safeguarding your surfaces in the process.
On average, our Chilliwack pressure washing services cost anywhere from $400 to $2000 or more, depending on factors like job size, surface condition, and complexity. For instance, an average 2-car wide driveway typically costs around $200 +GST.
Soft Washing: Caring for Delicate Surfaces
Not all surfaces are designed to withstand high pressure. That's why we also offer Chilliwack power washing services, which include soft washing for delicate surfaces that could be damaged by high pressure, such as:
Roofs
House Siding
Decks and Awnings
Our soft washing employs a specific detergent formula that effectively breaks down mildew and algae, enabling them to be easily rinsed away with low pressure. On average, our soft washing services start at around $425 and can go up to $2500 for residential projects.
Why Choose Shine City for Chilliwack Pressure Washing Services?
When you choose Shine City, you're opting for:
Experience and Expertise: Our skilled team brings knowledge and professionalism to every job.
Quality and Efficiency: We use industry-leading equipment and environmentally friendly chemicals for thorough, efficient cleaning.
Affordability: Our competitive pricing delivers excellent value, without compromising on quality.
Convenience: Besides pressure washing, we offer a range of exterior cleaning services, including roof moss removal, gutter cleaning, and Christmas light installation.
At Shine City, we are passionate about making your property look its best. Contact us today for a free estimate for our Chilliwack pressure washing and other services. Let us help your property shine with Shine City!
We also provide pressure washing in Mission, Surrey, and langley, as well as roof cleaning in Surrey and the surrounding areas. Call today for a free quote!