Chilliwack Roof Cleaning: Superior Service for a Spotless Roof
At Shine City, we believe in the power of a clean, well-maintained exterior. Your roof is not only a vital part of your home's structure; it's also a significant factor in your property's curb appeal. This is why we offer top-tier Chilliwack roof cleaning services, bringing a level of professionalism and expertise that guarantees your roof looks its best and lasts longer.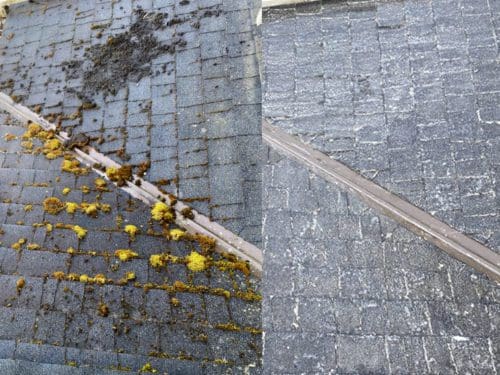 Professional Roof Cleaning Services in Chilliwack
With the right equipment, specialized cleaning solutions, and a highly skilled team, Shine City ensures that your roof gets the care it needs. Our comprehensive roof cleaning services include:
Moss Removal
Algae and Mildew Cleaning
Roof Debris Clearance
We treat every roof as unique, taking into account the roofing material and the specific cleaning requirements it has. From asphalt and metal to tiles and shingles, we have the knowledge to handle various types of roofs.
Comprehensive Moss Removal
Moss may give your roof a rustic look, but it can also cause significant damage. Moss retains moisture, and in a climate like Chilliwack's, this can lead to wood rot and roof leaks. Our roof moss removal service provides a thorough cleaning that not only removes moss but also prevents it from recurring.
Soft Washing: Gentle Yet Effective
High pressure isn't always the answer. For roofs, especially those with delicate shingles or tiles, we use soft washing. This technique employs low pressure and a specialized detergent formula that breaks down and rinses away algae and mildew without causing any damage. It's an essential part of our Chilliwack roof cleaning services and is also highly effective for cleaning house siding, decks, and awnings.
Why Choose Shine City for Chilliwack Roof Cleaning?
When you select Shine City, you are choosing:
Expertise: Our team possesses a wealth of knowledge and expertise in roof cleaning, bringing a professional touch to every project.
Quality: We use the best equipment and environmentally-friendly cleaning solutions to ensure an excellent clean that is also kind to your property and the environment.
Value: With competitive pricing and top-notch service, we deliver high-quality roof cleaning that is worth every cent.
Variety: Apart from roof cleaning, we offer a suite of exterior cleaning services, including pressure washing, gutter cleaning, and even Christmas light installation for the festive season.
Invest in the longevity and aesthetic appeal of your roof with our Chilliwack roof cleaning services. Contact Shine City today for a free estimate. Let us give your roof—and your home—the shine it deserves!
We also offer Abbotsford roof cleaning, Chilliwack pressure washing, Langley pressure washing, and Abbotsford pressure washing, as well as a variety of other exterior cleaning services in the Fraser valley.