Best Roof Cleaning And Moss Removal Company In Abbotsford BC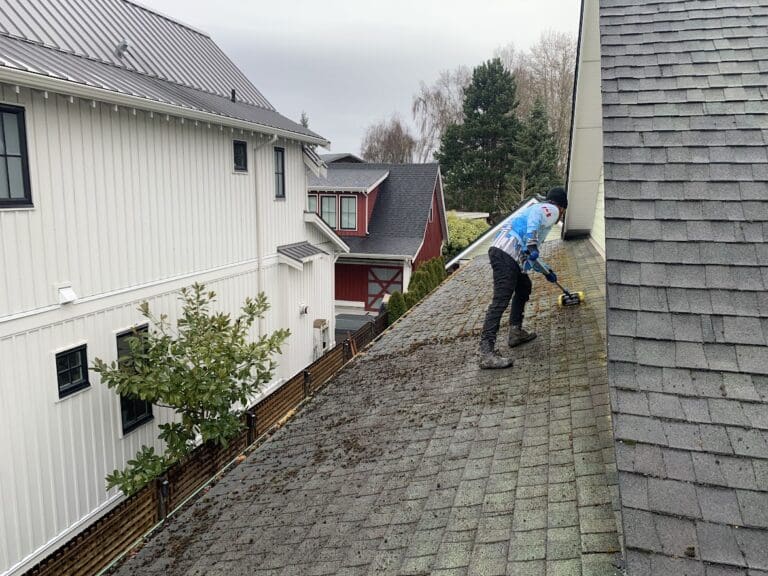 If you're seeking Abbotsford roof cleaning and moss removal services, Shine City stands as your optimal choice. We have been providing Abbotsford roof cleaning services since 2018, specializing in moss removal for all types of Abbotsford roofs. Depending on your roof's structure, we may employ a blend of manual brushing and a gentle-wash roof procedure. Trust in Shine City to clean your Abbotsford roof in the most suitable manner!
Is It Safe To Pressure Wash A Roof?
Pressure washing an asphalt, tile, or cedar roof could lead to irreversible harm! This is why we utilize the gentle wash approach to clean your Abbotsford roof both safely and effectively, avoiding high pressure that can strip granules from your asphalt roof shingles. Our gentle wash roof cleaning eradicates moss, algae, and mildew down to the roots, causing the roof moss to gradually disintegrate.
When you choose Shine City for your Abbotsford roof cleaning, you're safeguarded by our 2-Year moss-free guarantee! If you spot any new moss beginning to grow on your roof within two years of your roof cleaning, we're ready to apply our gentle wash roof treatment again to ensure the moss disappears, at no extra cost!
Why Is Roof Cleaning Important?
Abbotsford is recognized for its climate which promotes the growth of green algae, moss, and lichen, particularly on roofs. You might be wondering, does roof moss lead to roof damage? The answer is yes, especially if moss growth goes unchecked. Regular roof cleaning can prolong your roof's lifespan, decrease the necessity for frequent gutter cleaning services, and safeguard your roof against rot and mold. Get in touch with Shine City for Abbotsford roof cleaning and moss removal today!
Other Abbotsford Exterior Cleaning Services
In addition to Abbotsford roof cleaning and moss removal, we offer an array of other exterior cleaning services for your residential or commercial premises. These include Abbotsford pressure washing, Abbotsford gutter cleaning, Abbotsford window cleaning, strata maintenance, and more!