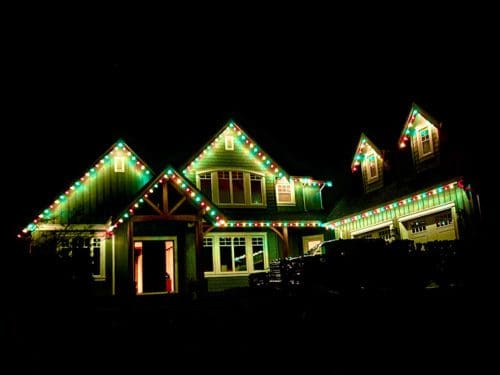 We provide Burnaby Christmas light installation! As the holiday season approaches, the streets of Burnaby, BC, come alive with the enchanting sparkle of Christmas lights. At Shine City, we're here to make your home a part of this magical tapestry. We specialize in providing comprehensive Christmas Light Installation services in Burnaby, and across the Greater Vancouver area, including Surrey, Langley, Abbotsford, Maple Ridge, Vancouver, and more. In this article, we'll explore the captivating world of Shine City's premium LED Christmas lights and the full package of services that ensure your holidays shine brighter than ever before.
Burnaby Christmas Light Installation By Shine City -Designing Dreams
Your Vision, Our Canvas: At Shine City, we understand that every homeowner has a unique vision for their holiday display. That's why we provide a personalized approach to our design services. When you choose Shine City, you have the creative freedom to select your choice of colors and color patterns, allowing you to craft a holiday masterpiece that reflects your individual style and spirit.
Premium Grade LED Lights
Durability and Reliability: Central to any spectacular holiday display is the quality of the lights. Shine City takes pride in offering premium-grade LED Christmas lights that shine brightly in terms of durability and reliability. These heavy-duty commercial-grade LEDs are designed to withstand the rigors of outdoor use, ensuring they illuminate your home brilliantly throughout the holiday season.
Longevity and Efficiency: Shine City's Christmas lights are not only durable but also incredibly long-lasting. They outshine standard store-bought lights by lasting up to 10 times longer. This translates to years of enchanting holiday displays, making them a wise investment in your cherished traditions. Additionally, our Christmas lights are designed to be energy-efficient, saving you money on your electricity bills while brightening your home with festive cheer.
Impeccable Installation
Early Start: At Shine City, we know that holiday spirit knows no bounds. That's why we begin installing Christmas lights as early as October 1st, ensuring your home radiates holiday magic as soon as the season begins. Early installation allows you to enjoy the festive atmosphere for an extended period.
Tailored Techniques: We recognize that every home is unique, which is why we utilize a variety of installation methods. From clips, straps, zip ties to staples, our experienced team selects the appropriate approach based on your home's design and specific requirements. While our methods are secure and reliable, it's important to note that they may create small staple holes on the fascia boards of your home. However, rest assured that we take measures to minimize any impact to preserve your property's integrity.
Responsive Maintenance
Peace of Mind: At Shine City, we prioritize your satisfaction. If you encounter any issues with your Christmas lights during the season, our dedicated team is at your service. We respond promptly to fix any problems within 24 hours, ensuring that your holiday display continues to shine brilliantly, without any interruptions to your festive celebrations.
Hassle-Free Take-Down After Your Burnaby Christmas Light Installation
Extended Enjoyment: When the holiday season concludes, we understand that dismantling the lights can be a daunting task. Shine City is here to ease the process. We commence taking down Christmas lights on January 1st, but you have the flexibility to leave your lights up as late as January 31st. Our team handles the removal with utmost care, ensuring that your lights are labeled for reinstallation and securely stored until the next holiday season. Bid farewell to the frustrations of tangled lights and dusty attics—Shine City has you covered.
Discounts and Specials
Year-Round Savings: Our commitment to making your holidays affordable and brilliant extends beyond the first year. Once your Christmas lights are custom-designed, custom cut, and fitted to your house, we're pleased to offer discounts ranging from 10% to 25% off our services. These discounts are available year after year, ensuring that you can enjoy a radiant holiday display without exceeding your budget.
Early-Bird Discounts: For the planners among us, Shine City provides early-bird discounts when you schedule installations before October 15th. This incentive allows you to enjoy even more savings while ensuring your home is among the first to light up the neighborhood with holiday cheer.
Conclusion: In Burnaby, BC, Shine City is your ultimate destination for Christmas light installation. Our comprehensive service, premium LED lights, and unwavering commitment to excellence set us apart. Join the ranks of our delighted customers and let us transform your property into a dazzling holiday wonderland. Contact Shine City today to schedule your Christmas light installation and immerse yourself in the enchantment of the season. Illuminate your holidays with Shine City, your trusted partner for Burnaby Christmas Light Installation.