Best Roof Cleaning and Moss Removal Services in New Westminster BC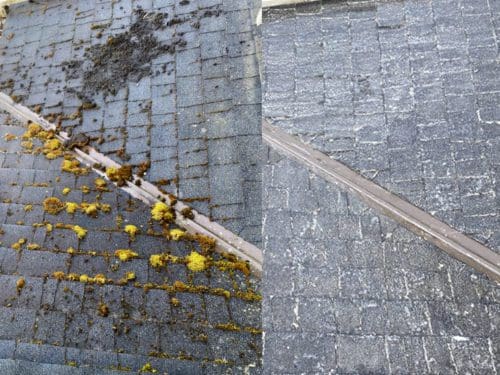 If you're in search of top-notch New Westminster roof cleaning and moss removal services, Shine City is your go-to choice. We have been proudly serving New Westminster with roof cleaning services since 2018, specializing in moss removal for various types of roofs in the area. Depending on your roof's specific needs, we employ a combination of manual brushing and a gentle wash roof cleaning procedure. Trust Shine City to clean your roof with expertise!
Is It Safe To Pressure Wash A Roof?
Pressure washing your asphalt, tile, or cedar roof in New Westminster could result in irreversible damage. That's why we exclusively use the gentle wash approach to clean your roof in a safe and effective manner, avoiding high-pressure methods that can strip granules from your asphalt shingles. Our gentle wash roof cleaning method eliminates moss, algae, and mildew right down to the roots, causing the roof moss to gradually disintegrate.
Enjoy a 2-Year Guarantee on New Westminster Roof Cleaning!
When you choose Shine City for your New Westminster roof cleaning needs, you're covered by our 2-Year moss-free guarantee! If you happen to notice any new moss growth on your roof within two years of our roof cleaning service, we'll reapply our gentle wash treatment at no additional cost to ensure the moss disappears completely.
Why Is Roof Cleaning Important in New Westminster?
New Westminster's climate is conducive to the growth of green algae, moss, and lichen, particularly on roofs. You might be wondering, does roof moss lead to roof damage? The answer is yes, especially if moss growth is left unchecked. Regular roof cleaning can significantly extend your roof's lifespan, reduce the need for frequent gutter cleaning, and protect your roof against rot and mold. Contact Shine City today for roof cleaning and moss removal services!
Other Exterior Cleaning Services in New Westminster
Apart from our New Westminster roof cleaning and moss removal services, we offer a wide range of other exterior cleaning solutions for both residential and commercial properties. These services include New Westminster pressure washing, gutter cleaning, window cleaning, strata maintenance, and more! Trust Shine City to keep your property looking its best.