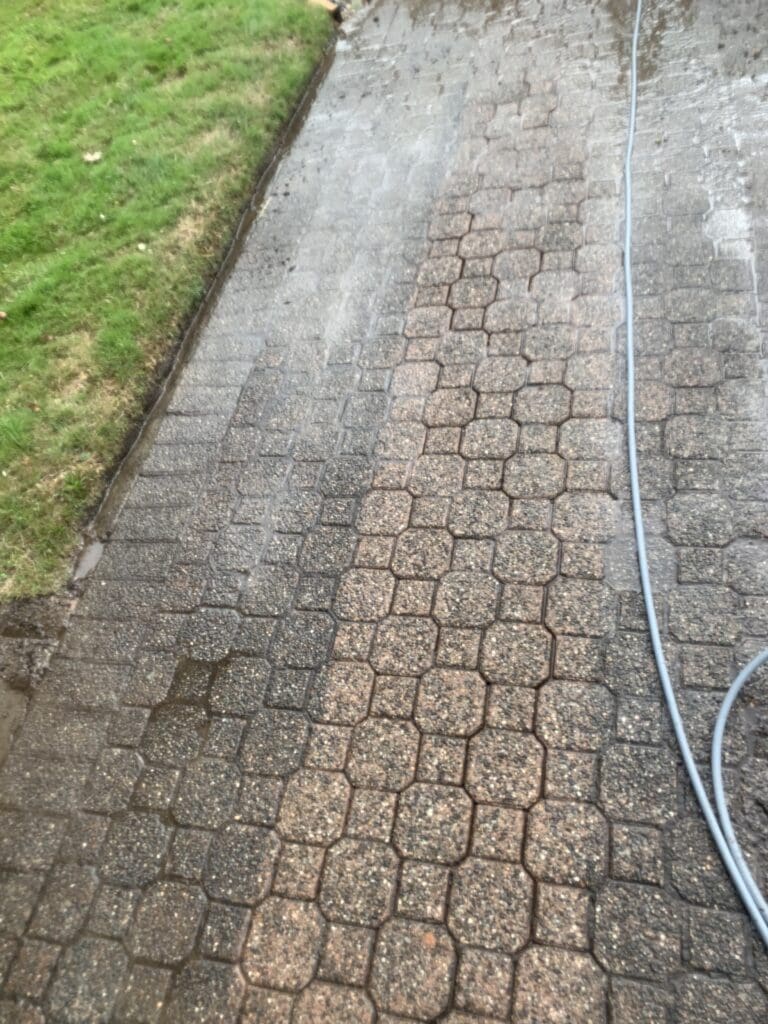 New Westminster Pressure Washing Experts | Transforming Your Property with Excellence
When it comes to property care and revitalizing exteriors in the Greater Vancouver area, New Westminster pressure washing services from Shine City have been the go-to choice since 2018. We take pride in rejuvenating a wide range of properties, whether residential homes, commercial spaces, driveways, decks, or more. Our unwavering commitment to transforming and revitalizing exterior surfaces ensures that your property shines like new.
Why Choose Shine City For New Westminster Pressure Washing?
Selecting the right New Westminster Pressure Washing company is crucial, and Shine City offers several compelling reasons why we should be your top choice for all your exterior cleaning needs:
Tailored Cleaning Methods:
At Shine City, we understand that every surface is unique, and that's why we tailor our cleaning methods to suit the specific needs of each one. Whether you require a gentle soft washing approach for delicate siding and roofs or a high-pressure washing solution for tough surfaces like driveways and brick, our expert team has the knowledge and skills to adapt and deliver a thorough and safe cleaning process.
Safety Above All:
Your safety and the safety of your property are our top priorities. When it comes to New Westminster Pressure Washing, insurance is essential. Shine City goes the extra mile by being fully insured and carrying WorkSafe BC coverage. This provides you with complete peace of mind throughout the entire cleaning process, knowing that you can trust us to deliver exceptional results without any concerns.
Understanding Soft Washing Vs. Pressure Washing Vs. Power Washing
To achieve the best results for your property, it's essential to understand the distinctions between these cleaning methods:
Soft Washing:
This method involves using a gentle, low-pressure stream of water, making it the ideal choice for cleaning delicate surfaces like house siding, roofs, and windows. To enhance its effectiveness, soft washing is complemented by specialized cleaning solutions that effectively remove dirt, grime, mold, and algae without causing any damage. It's not just about cleaning; it's about preserving the beauty and integrity of your property's exterior.
New Westminster Pressure Washing:
When you need a more robust approach, our high-pressure water cleaning method takes center stage. This is perfect for tackling stubborn stains, built-up dirt, and grime on surfaces that can withstand the force. Pressure washing leaves your hard surfaces looking refreshed, clean, and rejuvenated.
New Westminster Power Washing:
The term "power washing" is less specific and can encompass both soft washing and pressure washing. The choice between the two methods depends on the detergents, nozzles used, and the pressure delivered to the surface.
Our Commitment to Excellence
Choosing Shine City for New Westminster pressure washing goes beyond simply cleaning; it's about enhancing the overall aesthetics and longevity of your property. Our experienced team relies on state-of-the-art equipment, eco-friendly cleaning agents, and industry best practices to deliver exceptional results that stand the test of time.
We take pride in transforming your surfaces, whether residential or commercial, into spotless, attractive, and inviting spaces. We firmly believe that a clean exterior not only enhances your property's curb appeal but also contributes to a healthier living or working environment.
With Shine City, you can trust that every inch of your property is in capable hands. Our unwavering commitment to safety, quality, and customer satisfaction has earned us a reputation as the premier New Westminster pressure washing provider. When you choose Shine City, you're not just getting a service; you're getting a partner in property care who understands the unique needs of New Westminster pressure washing, ensuring your property looks its best for years to come.