Mission Pressure Washing: Your One-Stop Solution for Pristine Exteriors
Your home or business is a reflection of you, so why not let it shine? At Shine City, we offer unparalleled exterior cleaning services to make your property sparkle like never before. Our mission? Pressure washing and exterior cleaning services that transform and protect your property, making it the star attraction in your neighborhood.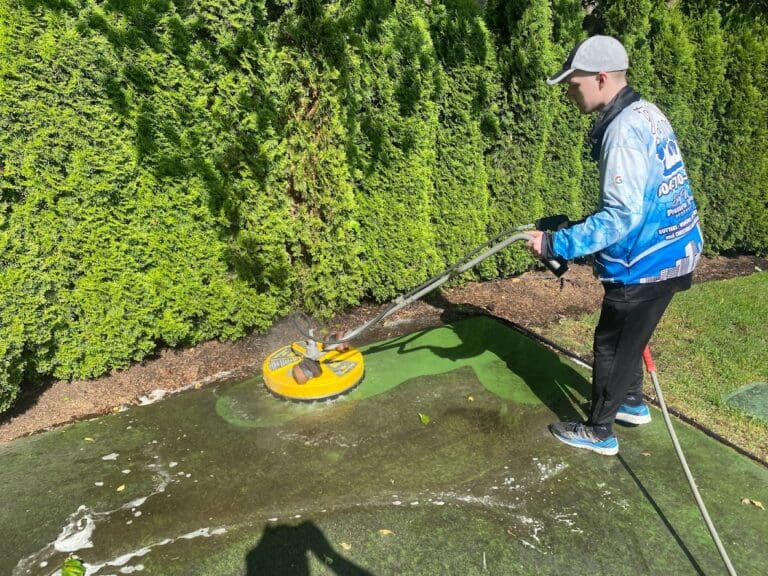 Expert Pressure Washing Services: Revitalize Your Property
Pressure washing is a fast and effective method to clean a variety of exterior surfaces. Our expert technicians at Shine City, adept in Mission pressure washing, use high-grade equipment and biodegradable chemicals to guarantee a superior clean for your surfaces.
We specialize in pressure washing:
Concrete and Asphalt
Brickwork and Retaining Walls
Decks and Patio Covers
Driveways and Parking Lots
Pavers, and more
Our services do not leave unsightly lines on surfaces, thanks to our high-quality surface cleaners. We meticulously select the right nozzles to apply the optimal pressure, ensuring your surfaces get the best clean without any damage. For an average two-car wide driveway, our pressure washing services are competitively priced around $200 +GST, with comprehensive services ranging from $400 to $2000 or more, depending on the size and complexity of the job.
Gentle Yet Effective: Soft Washing Services
Not all surfaces are the same; some require a softer touch. Our Mission power washing services include soft washing, a gentler cleaning method perfect for delicate surfaces that could be damaged by high pressure.
Soft washing is ideal for:
Roofs
House Siding
Decks and Awnings
We utilize a specialized detergent formula that effectively breaks down mildew and algae, allowing them to be rinsed away easily with low pressure. Our soft washing services start around $425, extending up to $2500 for a residential project, ensuring the utmost care for your property's sensitive areas.
Why Choose Shine City's Mission Pressure Washing Services?
At Shine City, we pride ourselves on providing premium exterior cleaning services. With us, you don't just get a clean property, but also:
Expertise: Our highly skilled team has the knowledge and expertise to tackle a variety of pressure washing jobs with precision.
Quality: We use professional-grade equipment and eco-friendly cleaning solutions, ensuring a top-tier service every time.
Affordability: We offer competitive pricing without compromising on the quality of our work, providing you with value for your money.
Convenience: From roof moss removal and gutter cleaning to Christmas light installation, we offer a comprehensive suite of services that cater to all your exterior cleaning needs.
At Shine City, our mission is your satisfaction. Trust us with your exterior cleaning needs, and watch your property shine like never before. Contact us today for a free estimate on our Mission pressure washing and other services. Let your property shine with Shine City!
We also offer Surrey pressure washing, Abbotsford pressure washing, Mission roof cleaning and more!