The holiday season is synonymous with joy, celebration, and the magical glow of Christmas lights. If you're in Mission, BC, or the surrounding areas, including Vancouver, Surrey, Langley, and beyond, you're in for a treat! Shine City is here to make your holidays even more special with our exceptional Christmas light installation services. In this article, we will delve into why Shine City is your top choice for Mission Christmas light installation.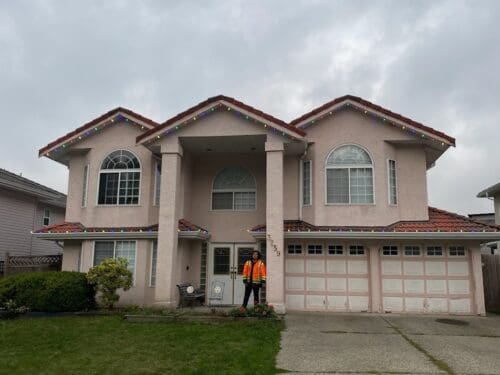 Spreading Holiday Cheer in Mission and Beyond
At Shine City, we believe that the true spirit of the holidays is best captured by beautifully lit homes and businesses. Our services extend across Mission, Vancouver, Surrey, Langley, and more, ensuring that the magic of the season reaches far and wide. Whether you're a resident looking to adorn your home with festive lights or a business owner aiming to create an inviting atmosphere, Shine City is your trusted partner.
Premium LED Christmas Lights for a Festive Holiday Season
Our Christmas Light Installation service is a comprehensive package, covering every aspect of illuminating your holidays. Here's what you can expect:
Our Comprehensive Mission Christmas Light Installation Service
Once you've envisioned your holiday wonderland, it's time to turn that vision into reality. Shine City takes pride in our meticulous and professional installation process, ensuring that your property shines throughout the holiday season.
Custom Design
To create a magical wonderland tailored to your preferences, we offer personalized design services. Upon contacting us, you'll receive a custom design proposal, complete with a visual representation of your property adorned with lights. You have the freedom to choose colors and patterns that align with your holiday spirit. Our design process ensures that your home or business becomes a beacon of festivity and joy, standing out amidst the holiday lights.
Careful Installation – Mission Christmas Light Installation
We understand that the holiday spirit can't wait, which is why we start installing Christmas lights as early as October 1st. Our experienced team employs a variety of installation methods, including clips, straps, zip ties, and staples, depending on your home's design and requirements. While our methods are secure and reliable, it's important to note that any small staple holes created on the fascia boards of your home will be minimized to preserve the integrity of your property.
Responsive Maintenance
At Shine City, we stand by our commitment to excellence. If you encounter any issues with your Christmas lights during the season, our dedicated team will respond promptly, aiming to fix any problems within 24 hours. Our goal is to keep your holiday display shining brightly throughout the season.
Hassle-Free Take-Down
When the holiday season draws to a close, we understand that taking down the lights can be a daunting task. That's where Shine City comes to the rescue. We initiate the removal process on January 1st and can leave your lights up as late as January 31st. Our team carefully removes the lights from your property, labels them for reinstallation, and stores them until the next holiday season. Say goodbye to the hassle of untangling lights and storing them in dusty attics—Shine City has you covered.
Savings and Specials: Making Your Holidays Affordable and Brilliant
At Shine City, we believe in making your holidays brighter without breaking the bank. That's why we offer discounts that extend well beyond the first year, making it even more enticing to continue illuminating your home or business with our premium LED Christmas lights. Here's how you can save:
Discounts Beyond the First Year Four Your Mission Christmas Light Installation
Once your Christmas lights are designed, custom cut, and built to fit your house, we're pleased to offer discounts ranging from 10% to 25% off our services. These discounts are available year after year, ensuring that you can enjoy a brilliant holiday display without exceeding your budget. Additionally, we provide early-bird discounts for those who schedule installations before October 15th, allowing you to plan ahead and save.
In conclusion, Shine City is your trusted partner for Christmas light installation in Mission, BC, and the surrounding areas. Our comprehensive service, premium LED lights, and commitment to excellence set us apart. Join our many satisfied customers and let us transform your property into a dazzling holiday wonderland. Contact Shine City today to schedule your Christmas light installation and immerse yourself in the magic of the season.